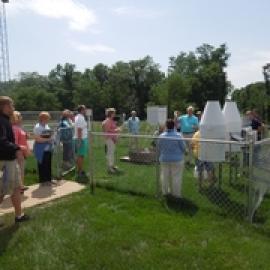 Project Atmosphere Workshop
July 28, 2019 -
August 03, 2019
Visit website
Description
The Project Atmosphere is a hybrid (online & in-person) teacher professional development workshop offered by the American Meteorological Society's Education Program.
This workshop is intended to:
Introduce teachers to the latest technologies and techniques for sensing, analyzing, and forecasting weather
Explore and suggest ways in which the products of these technologies and techniques can be employed in school studies of the atmospheric environment
Prepare workshop attendees to conduct training sessions on selected atmospheric science topics and issues for teachers in their home regions during the next school year
Encourage participation in AMS DataStreme Atmosphere Mentor Teams
Project Atmosphere on-site portion will be held at the U.S. National Weather Service Training Center (NWSTC) in Kansas City, Missouri.  The on-site, in-person portion of the workshop includes lectures, tutorials, seminars, hands-on laboratory exercises, and field trips.  National Weather Service and other NOAA personnel will present a variety of topics dealing with the sensing, analyzing, and forecasting of weather.  Presentations will be articulated with science content and weather education presentations led by workshop faculty. Prior to arrival at the NWSTC, teacher-participants will be enrolled in California University of Pennsylvania's Global Online program and course management system, D2L. Student participants will be required to complete multiple online learning modules related to the atmospheric and related sciences. This preparatory work will enable teacher-participants to engage at a similar level of competency prior to arrival at the NWSTC.
The workshop will include the following topics (online or on-site): 
Surface and upper-air observations and analysis
Radar imagery and interpretation
Satellite imagery interpretation
Weather forecasting
Thunderstorms and severe storms
Hurricanes
Global climate change
Teaching and dissemination of weather information
On-site residence experience: July 28-August 3 2019
National Weather Service Training Center (NWSTC)
Kansas City, Missouri
Applicant Qualifications
To be eligible for Project Atmosphere, teachers and supervisors of science at the K-12 level should:
Have sufficient college-level training to benefit from the material presented
Teach or supervise the instruction of a meteorology or related course in the atmospheric sciences
Demonstrate leadership in teaching, curriculum development, and/or the in-service training of fellow teachers
Help promote weather education in their home regions, including a minimum of one training session for pre-college teachers upon completion of the workshop
Participants will be selected to provide a national geographic distribution and a cross-section of school environments (inner city, urban, suburban, and rural). Teachers interested in promoting minority participation in science are strongly encouraged to apply.