Inaugural Powerful Learners Mini-Conference
Closing the Achievement Gap Together
A morning for teachers, tutors and those serving youth to:
Learn concrete student agency tools and practices to help your students become powerful learners

Connect with educators from other schools and organizations and share best practices

Enjoy a morning of free professional development, camaraderie and food!
Saturday, February 9, 2019 
9:00 AM - 1:15 PM
The Impact Lab at Gateway High School
1430 Scott Street
San Francisco, CA 94115 
About Gateway Impact
Gateway Impact is an initiative of Gateway Public Schools dedicated to improving educational outcomes for all students through conversation, collaboration, and celebration. By creating forums to share ideas, best practices, and successes, we aim to leverage the collective wisdom and commitment of educators and help close the achievement gap.
All Gateway Impact resources are free, including our conferences. Thanks to incredible funders and allies, attending this conference is free of charge and meals are complimentary. Parking is available on site.
Powerful Learners Mini-Conference Schedule
9:00 AM: Registration
9:15 AM: Welcome and Kickoff
9:45 AM: Breakout Sessions 1 and 2
12:30 PM: Collaborative Lunch
Powerful Learners Mini-Conference Breakout Sessions

Setting the Stage for Student-Led Family Conferences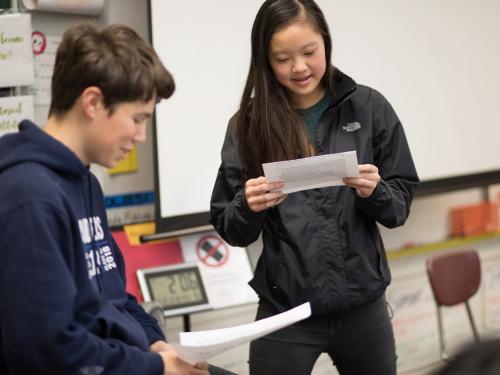 Looking to build student and family engagement in students' learning? Gateway educators Therese Arsenault and Cassandra Dougherty will share ways to promote student reflection and family engagement through student-led family conferences. During this session, you will learn how to spark student agency in your students and establish the groundwork for implementing student-led conferences. Presenters: Therese Arsenault, 6th Grade Math/Science Teacher and Math/Science Instructional Leader, Gateway Middle School, and Cassandra Dougherty, Director of the Learning Center, Gateway Middle School

Getting Started with Student Agency: Building Your Personal Toolkits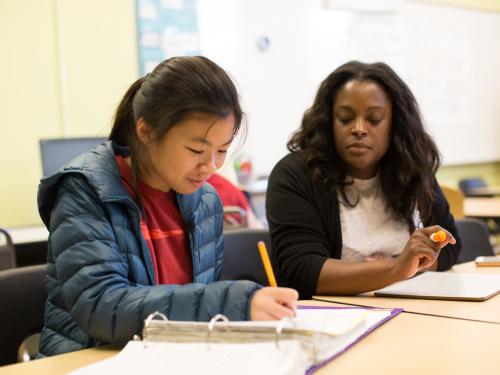 From classroom practices to student meetings, Gateway educators Suzanne Herko and Melissa Higgins, will share strategies and tools for implementing student agency practices in your classrooms, programs and schools. Participants will create a strong foundation for their own toolkits, along with a plan to start putting their new resources to use and building agency with their students. Presenters: Suzanne Herko, 7th Grade Humanities/Learning Seminar Teacher and Advisor, Gateway Middle School, and Student Agency Coordinator, Gateway Public Schools, and Melissa Higgins, 8th Grade Learning Specialist, Gateway Middle School and National Board Certified Teacher

Student Agency and Social Emotional Learning: Using De-escalation Techniques to Support Student Development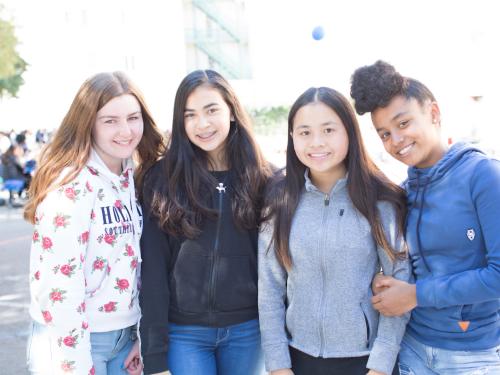 Gateway's mental health counselor, Saundré Allen will lead a conversation about how the body responds to triggers and strategies to help educators and students cope together. Using the de-escalation, metacognitive reflection and affective statements, participants will learn how to support students both socially and emotionally through student agency tools. Presenter: Saundré Allen, Director of Counseling Services, Gateway High School 

Number Talks: Cultivating Student Voice in Math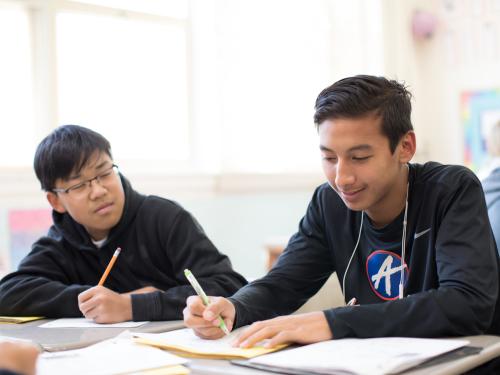 Number Talks engage students in mathematical sense-making through grappling with multiple-solution math problems. During this session, we will break down the theory and research connecting number talks and student agency, including how and why number talks invite student voice, creativity, and flexibility in the math classroom. Together we'll create number talks and solutions as it relates to your own work in the classroom or out-of-school programming. Presenter: Charlotte Sivanich, Algebra Teacher, Gateway High School

Student Choice and Voice in the Classroom: Inquiry Based Learning and Equitable Models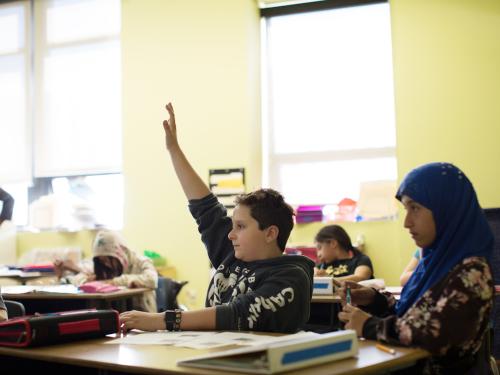 Educators from The New School of San Francisco share how they plan inquiry based learning for students while still ensuring coverage of all grade level standards. As public school educators, we have a responsibility to provide equitable access to high-quality learning models and share these strategies with each other to increase access everywhere. Participants will experience models of standards-based inquiry arcs and have the opportunity to begin planning their own. Participants will receive resources to take back to their teams to begin implementing this equity providing educational model. Presenters: Educators from the New School SF
Breakout sessions are on a first come first serve basis. Upon registration, you will be asked to pick your top three breakout session choices.
Powerful Learners Mini-Conference Session Leader Bios
SAUNDRE ALLEN, LCSW
Director of Counseling Services, Gateway High School
Saundré Allen joined Gateway High in 2014 to lead the school's mental health counseling program. She offers Gateway students one-on-one counseling and support, as well as training teachers to understand race, bias and privilege in an effort to bet support students on a social and emotional level. Saundré earned her bachelor's in adolescent and adult developmental psychology, and her Master of Social Work from Howard University.
THERESE ARSENAULT
6th Grade Math/Science Teacher and Math/Science Instructional Leader, Gateway Middle School
Therese is a founding teacher at Gateway Middle School, where she currently works as a 6th grade math and science teacher and instructional leader. She works closely with new teachers, supporting their learning as they develop their expertise and is an advisor for the Annual GMS Student Talent Show. She graduated from Simmons College with a degree in nursing, and from Elmira College and the Harvard Graduate School of Education with master's degrees in education. Therese is currently is a member of the Exploratorium's Teacher Leader Institute, where she works as a mentor teacher to San Francisco science teachers and co-facilitates professional development for teacher leaders throughout California. When not working, Therese enjoys traveling, spending time with her two sons, and exploring the natural history of Northern California.
LAUREN BERRY
1st Grade Teacher, New School SF
Lauren Berry has been with the New School of San Francisco since 2017. Prior to joining NSSF, she taught at a larger charter network for 4 years in lower elementary school classrooms. She recently graduated from her master's program at Johns Hopkins which focused on culturally responsive teaching and technology integration for educators. She deeply believes that risk-taking, confidence, self-love, teamwork and joy are key in creating curious learners who are ready to tackle all that life throws at them.
CASSANDRA DOUGHERTY
Director of the Learning Center, Gateway Middle School
Cassandra began her teaching career as a New York City Teaching Fellow. After teaching in the Bronx for five years, Cassandra worked as a coach for the Office of Inclusive Education in New York City. Upon returning to her hometown of San Francisco, Cassandra worked as a Content Specialist in the Special Education Department of San Francisco Unified School District. She joined the Gateway Middle School community in 2013. In her free time, she enjoys exploring all of the food, music, and culture San Francisco has to offer.
SUZANNE HERKO
7th Grade Humanities/Learning Seminar Teacher and Advisor, Gateway Middle School
Student Agency Coordinator, Gateway Public Schools
Suzanne came to Gateway in 1999, teaching humanities at the high school and later helping to design and start the middle school. Prior to Gateway, she taught at the Liceo Internacional in Quito, Ecuador, as well as public middle schools in New York City. She earned her bachelor's degree in history, concentrating in women's history, at Stanford University and her Master of Arts in Teaching Social Studies at Teachers College, Columbia University. When not working on behalf of her students, Suzanne enjoys exploring the world with her husband and two children.
MELISSA HIGGINS
8th Grade Learning Specialist, Gateway Middle School and National Board Certified Teacher
Melissa is a native Southern Californian and graduated from UCSD (BS) and SFSU (MA). Prior to Gateway, Melissa was an Education Specialist and SDC teacher in Oakland, CA. She loves data-driven instruction as well as teaching students how to become informed advocates. She also enjoys spending time with new specialists and National Board candidates preparing them to be their best possible selves in and outside the classroom. Outside of Gateway, she volunteers in youth-related non-profits and spends time outdoors.
CHARLOTTE SIVANICH
Algebra Teacher, Gateway High School
Charlotte recently relocated to the Bay Area after living and teaching in the Minnesota for the past six years. She's a graduate of St. Olaf College in Northfield, MN, where she majored in math and had concentrations in statistics, environmental studies, and educational studies. Charlotte is currently working on her National Board Certification of Teaching and is a Hollyhock Fellow with the Stanford Graduate School of Education. In the classroom, Charlotte enjoys sharing her love of math puzzles with students, using the classroom space to move around and be active, and incorporating group roles to empower students to work together. Outside of the classroom, she enjoys running, eating cheese, and visiting National Parks.
KIM STEVENSON
2nd Grade Teacher, New School SF
Kim Stevenson joined the New School of San Francisco in 2016. Prior to joining NSSF, she taught at a variety of schools and classrooms ranging from TK for a large charter network to a district school with an SDC for students significantly impacted by autism. She earned her Masters in Special Education from San Francisco State University where she also completed her undergraduate and credentialing programs. Her biggest teaching passions are early literacy skills and building independence and problem-solving skills in her students.
Contact Us
For questions related to Gateway Impact, the Powerful Learners Mini-Conference, or how to support this initiative, please contact us at info@gatewayimpact.org
Gateway Impact is an educator professional development platform to support the collaboration, growth, and retention of public school teachers. Gateway Impact represents Gateway Public Schools' commitment to initiating and maintaining a dialogue that enriches our public schools and supports educators.