DISCUSSION
What Does It Mean To Be Strategic?
By Chris Hero / September 18, 2018
About four years ago, Gateway Public Schools began thinking about what to do next as an organization. We had recently completed the process of launching our new middle school and had built up our organizational capacity and assets along the way. And while we recognized the vital importance to continue to innovatively grow our organization's impact, we didn't know what that growth should look like. We also recognized that while it was very fun and inspiring to brainstorm around exciting new initiatives for growth, the true challenge was to figure out which of these ideas is really a strategic initiative. We were determined to identify a framework or model to apply to our ideas to help us consider which initiatives would be truly strategic for us.
So we started with the simple question: "What does it mean to for Gateway to be strategic"? For a school or non-profit organization, the answer to this question may seem obvious –you do things that continue to serve your community and grow your programs, right? That's indeed a good place to begin, but we think there is much more that needs to be considered before launching new organizational initiatives or activities. We spent a lot of time considering this question, actually almost a full year! But we determined that while being strategic will look very different across different organizations, all organizations could benefit from applying a framework when considering what initiatives you take on next.
We ultimately landed on the following definition of strategic initiative: "Being strategic means being clear about both your organization's mission and its assets, and incorporating both into programs and activities that contribute to long-term sustainability."  Of course the key words are mission, assets, and sustainability, as seen in the diagram below.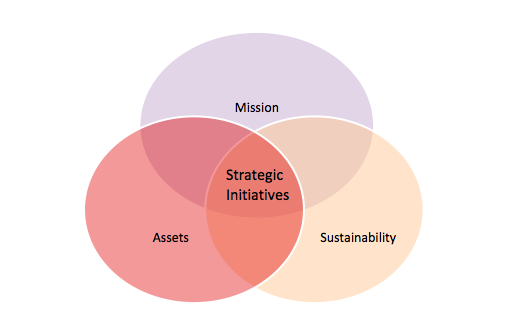 Our goal became to ensure that all our new initiatives would fit squarely in the middle of this diagram. They must:
be in alignment with our mission
leverage our existing organizational assets and strengths
introduce us to new revenue streams, donors and partnerships
We believe that organizations thrive in new ways by strategically growing their impact, and we would encourage all organizations to consider their growth and impact through a similar lens. Coming up with innovative programmatic growth opportunities is only the first step. Successful initiatives will be taking existing success to new audiences or in new directions, and will only work long-term if they contribute to sustainability with new revenues (ie, the new initiative cannot be just another cost center in your budget).
Today, Gateway Public Schools is launching three new new strategic initiatives aimed at growing our organizations impact. These initiatives are highlighted by this Gateway Impact website, a hub of resources and opportunities for students, teachers, and community. We are also transforming an old locker room into a state of the art STEAM Center to inspire creativity in students and teachers in San Francisco. And lastly, we are also working to serve as a model and advocate for addressing the teacher shortage and compensation challenges in the Bay Area. 
All of these initiatives were developed with thorough vetting from our model. While success is not assured, we know foundationally these initiatives are the right activities for Gateway. In future posts we will drill down into the process we used to clarify and define our mission, organizational assets and sustainability. But for now, we hope that when you start thinking about growing impact with new initiatives, you find this framework helpful.