Gateway Impact's Inaugural Powerful Learners Mini-Conference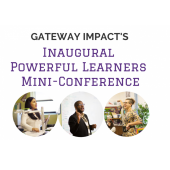 Gateway
Gateway Impact's Inaugural Powerful Learners Mini-Conference
Saturday, February 9, 2019
9:00 a.m. - 1:15 p.m.
The Impact Lab at Gateway High School
1430 Scott Street
San Francisco, CA 94115
Map
A morning for teachers, tutors and those serving youth to:
Learn concrete student agency tools and practices to help your students become powerful learners

Connect with educators from other schools and organizations and share best practices

Enjoy a morning of free professional development, camaraderie and food!
Gateway Impact is an initiative of Gateway Public Schools dedicated to improving educational outcomes for all students through conversation, collaboration, and celebration. By creating forums to share ideas, best practices, and successes, we aim to leverage the collective wisdom and commitment of educators and help close the achievement gap.
 All Gateway Impact resources are free, including our conferences. Thanks to incredible funders and allies, attending this conference is free of charge and meals are complimentary. Parking is available on site.
For more information about the conference and presenters, visit us at www.gatewayimpact.org/mini-conference
For questions related to Gateway Impact, the Powerful Learners Mini-Conference, or how to support this initiative, please contact us at info@gatewayimpact.org