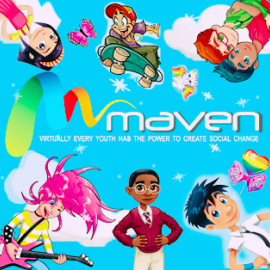 Description
During Maven's LGBT+ Youth Tech Camps, participants are guided by LGBT+ tech professionals from companies like Pixar, Google, EA Games, Pandora, Netflix and more through coding programs such as Python, Ruby, and Renpy. Over the course of camp all campers will build a video game together and apply their talents in writing/storytelling, artistry and code using a simple text based game developer tool. 
A social justice equity lens is applied across all segments of the camp to ensure youth become tech advocates for social change in their communities and within the tech industry. The skills students acquire through the camp give these young leaders a chance at well-paying professions with prestigious companies, as well as the ability to enter into the field as entrepreneurs and equity driven leaders in the tech sector. No previous experience needed -- all skill levels are encouraged to join in this amazing opportunity. This camp is free and all meals and transportation stipend provided. 
This free summer camp includes:
Breakfast, lunch and TONS of snacks!

Tours of tech companies

LGBT+ tech professionals Mentors

Training in coding/programming and game creation

Social justice and diversity in technology awareness

Team building and networking

Prizes and Gift Bags
Applicant Qualifications
Camps are open to LGBT+ youth and allies between the ages of 14-19.
Contact information
Monica Ann Arrambide: monica@mymaven.org or 210-705-9287