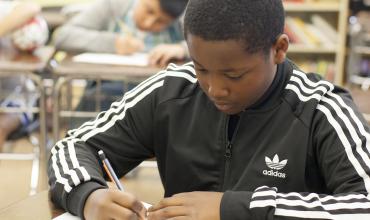 Areas of Impact
School-Wide
Classroom
Homework Planner Checklist
academic habits, Self Awareness & Growth Mindset
Gluing the Homework Planner Checklist onto the front of each student's homework planner serves as a reference for this important academic habit.
Overview
This Homework Planner Checklist identifies the specific strategies students should use to keep their homework planners organized.
Context
At Gateway Middle School, we developed this checklist to identify our common system for how students should record their homework assignments. First, we directly teach students the system to help them develop the academic habits that are critical for long-term academic success. After direct instruction, students have the checklist in their homework planners for daily reference. The system is reinforced each day as students write down their homework assignments, and later on students self-monitor how well they are using it. Having it as a reference allows support staff and family to similarly support student success with this habit.
Implementation
Before creating your own checklist, it is helpful to talk with co-teachers and colleagues about the systems they currently use and integrate those systems as much as possible. During the early stages of students developing this habit, the more cross-classroom transfer there is, the better. Remember that developing a new habit often takes 6 or more weeks of practice. So be prepared to re-teach, reinforce, and monitor this habit throughout that period! After that time, some students might need additional intervention, re-teaching and reinforcement of the habit.