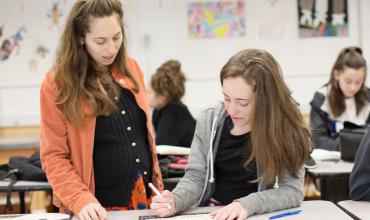 Areas of Impact
Professional Development
School-Wide
Age Group
High school and middle school
Year-Long Backwards Planning Curriculum Template
academic strategies, academic habits, Collaboration & Community Skills
By making student agency a priority in long-term planning, we make it a priority for daily learning. 
Overview
This document scaffolds teachers' long-term planning of content and skills in their classes.
Context
Teachers can use this backwards planning document to plan both skill and content learning in their classes. After planning the year's curriculum, teachers can refer to this document throughout the year to plan daily and weekly lessons and monitor their success in students' meeting learning goals.
From a schoolwide perspective, this document is helpful for both administrators and teacher-trainers to give teachers feedback in their planning and shape professional development and coaching in areas that need support. It is also helpful to guide collaborative team curriculum planning meetings throughout the year. See the Practices for Team Collaboration template for a structure to facilitate team collaboration.
Related content:
Practices for Team Collaboration
Gateway's Process of Learning Student Self-Assessment
Understanding by Design, 2nd Edition. By Grant Wiggins and Jay McTighe.
Implementation
Before using this document, teachers will need to be familiar with the state and national standards for their subject area. Required texts and textbooks should also be handy for reference. Finally, it is helpful for schools to identify the specific student agency skills that they want taught. See Gateway's Process of Learning Student Self-Assessment for a list of these skills and a tool to assess them. This year-long curriculum plan can be modified for individual units, semesters or quarter as is suitable to your school environment.