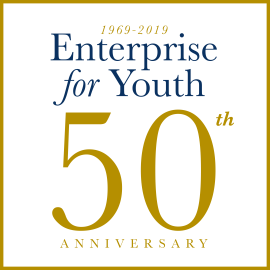 Enterprise for Youth Job Readiness Workshops
Enterprise for Youth
January 14 - 30, 2020
Description
Enterprise for Youth is holding a series of job readiness workshops at Gateway High School on Wednesday afternoons, 2:45-4:45, 1/29-3/25. Students will participate in engaging workshops and receive individualized support that prepares them for success in a wide range of work settings. All youth leave the program with:
An internship placement (in fall or summer)

A polished resume, cover letter, LinkedIn profile, and interview skills.

Access to college counseling and ongoing career support

Access to a network of caring adults — their first professional network

Access to Enterprise's Job Bank
Youth who complete the training program receive at least a $125 stipend and access to year-round employment opportunities. All youth qualify for college credit for completing one of our paid internships. Enterprise knows that a first job can be life-changing, and their programs open the door for San Francisco youth to explore exciting work opportunities in technology, healthcare, law, retail, design, and more.
APPLY HERE before the first workshop on January 29. Students can talk with Enterprise for Youth representatives during lunch, on Thursday, 1/16, in the front hallway.