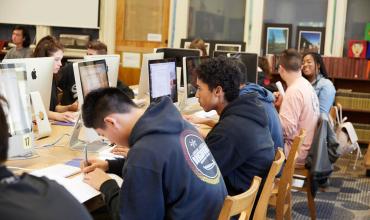 Areas of Impact
School-Wide
Student-Led Conference Portfolio Checklist
Self Awareness & Growth Mindset, Self-Advocacy, Collaboration & Community Skills
Student-Led Conference portfolios give students the opportunity to honestly share both their accomplishments and areas of growth.
Overview
This checklist helps students organize the contents of their Student-Led Conference portfolios and serves as an overview of the portfolio's purpose.
Context
At Gateway Middle School, advisors usher students through the process of assembling and presenting their portfolios to their families. While reflection on individual work samples takes place in subject area classes, the advisor guides the students in understanding the big picture of their accomplishments and setting goals for growth. Then they participate as an audience member in the student led conferences. Advisors share this checklist with students as they assemble their Student-Led Conference portfolios to keep track of the required artifacts. This process takes 2-3 weeks of daily work, about 30 minutes per day, to compile and practice all components of the portfolio.