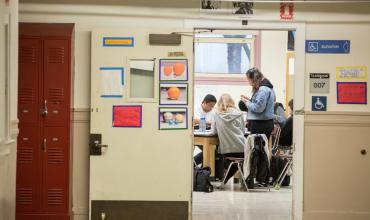 Areas of Impact
School-Wide
Classroom
Age Group
High school and middle school 
Student-Led Conference Classroom Work Reflection
academic strategies, Self Awareness & Growth Mindset
Student reflection on their work forms the backbone of their self-awareness and empowers them to grow.
Overview
This document scaffolds metacognitive reflection for students about their work in completion of the Student-Led Conference portfolio.
Context
This document is a template for reflection, so our teachers modify this document to highlight the specific learning goals, skills and projects that were completed in their classes. The questions guide students in building their self-awareness of and setting goals for their learning. It could be adapted with additional prompts or sentence starters for students, or, once students have more practice in reflection, left more open. It should be completed in class before students complete their global goal-setting for Student-Led Conferences. A final draft of this reflection accompanies the work in the student's Student-Led Conference Portfolio. See links below for additional documents supporting the Student-Led Conference.